Sunbathers, thrill seekers, mountain climbers, and everyone in-between typically looks forward to spring break. It's around this time of year that students get especially excited. Spring break means a break from endless studying, taking classes, doing homework, and experiencing exhaustion; it's an often needed opportunity to escape from stress for a week or so.

If you haven't already started planning, know that spring break is right around the corner! What will these vacation-goers chose to do with their time and money? Where will they travel to and how will they get to their destination? With so many people itching for an interesting and exciting spring break trip, what are the most popular places and activities? View the infographic below to learn the travel trends that are predicted for spring break 2020 based on survey results.
Keep an eye out for any contests we may have going on, here are our spring break finalists from 2019!
Spring Break 2020 Travel Trends Infographic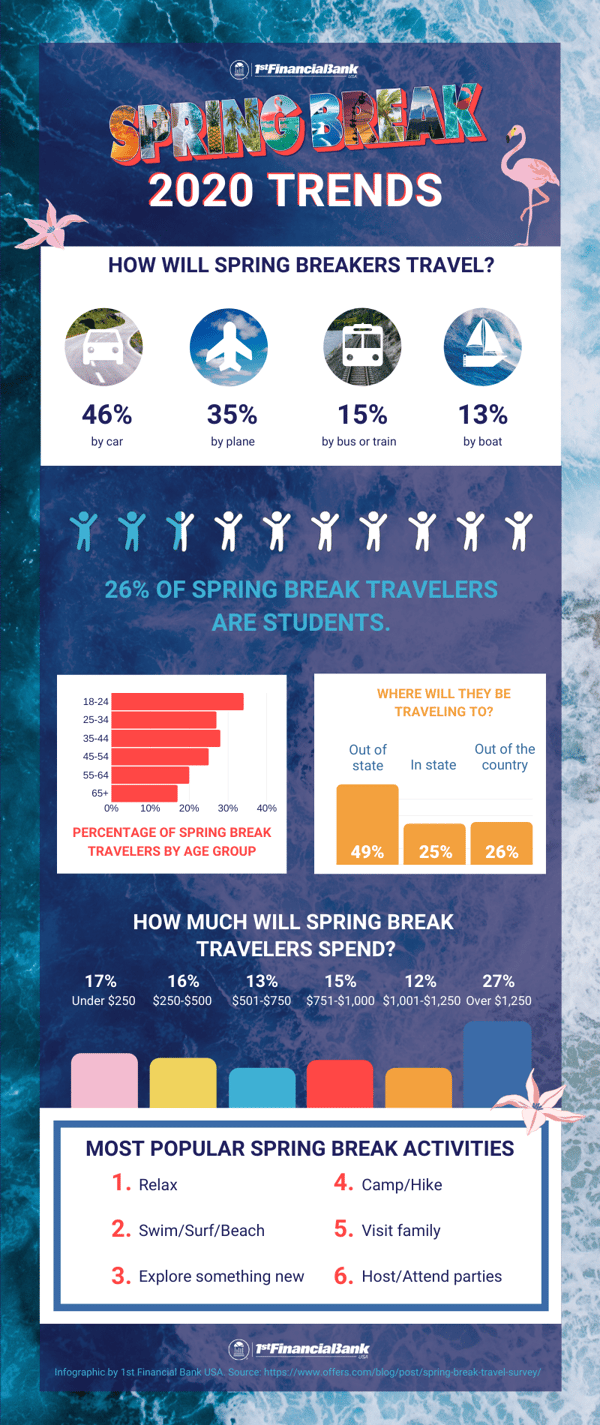 Disclaimer: The information contained in this infographic and on the 1FBUSA Blog and CollegeData website is for general informational purposes only and may not apply to you or your situation. You should not act or refrain from acting on the basis of any content presented on the 1FBUSA Blog or CollegeData website without consulting your parents or professionals. We disclaim all liability for actions you take or fail to take based on any content provided on the 1FBUSA Blog or CollegeData website. Note: This infographic contains predictions which are subject to change at any time for any reason. Source: "Spring Break Survey 2020: Top Travel Trends" https://www.offers.com/blog/post/spring-break-travel-survey/