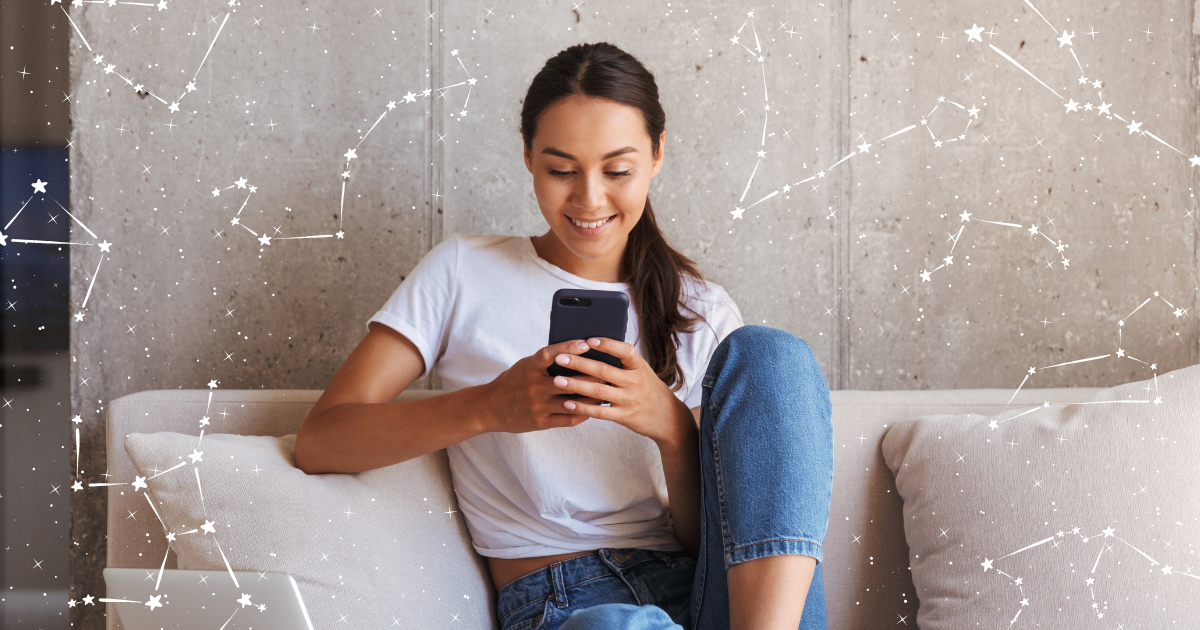 Whether you're familiar with zodiac signs or not, you've probably heard the question "What's your sign?" at least several times by now. Zodiac signs and horoscopes have grown increasingly more popular in the 20th century, and are now a go-to talking point for day-to-day conversation.
For those of you who don't know, there are 12 zodiac signs, and each sign is a star constellation that is centered for certain days of the year. Your zodiac sign is whichever constellation pattern lands on your birthday. Each sign has their own strengths, weaknesses, and characteristics that define their personality.
So, what's in store for your zodiac sign this month? Read on and find your horoscope to hear what the stars have written for your zodiac signs financial situation for June. Remember, there is no need to fret over your financial horoscope! After all, this is just for fun.

Aries
During the month of June, Aries' main focus will be connections. This month is inviting you to step outside of your comfort zone and strengthen your connections and create new ones. Your outgoing and curious personality makes it easy for you to make friends and connect with others. Allow yourself the freedom to explore your interests with excitement and curiosity, and don't be afraid to say yes to a spur of the moment adventure. Summer is just beginning, get out there and enjoy it.
The month of June is bringing you into action with your career. Money will not be flowing as easily as you may hope, so it's important to stay on budget this month. Consider avoiding signing any long-term contracts or agreements during June. Focus instead on saving your money for the future and allowing yourself more time to think things over. If the financial strain of June begins to frustrate you, just remember it will be over soon. You'll rise from the end of this month stronger and more prepared than when it began.

Taurus
During the month of June, Taurus will focus mainly on their journey. This is the perfect time to focus on the connection between your mind and body and how they connect you to the world. Spend time learning how to trust and be vulnerable around the people you love. Think about what empowers you and learn how to gather strength from it. June is also a great opportunity to turn inward and reflect on yourself. Be proud of your growth!
Financially, June is expected to be very normal. Your income is expected to remain unwavering and sturdy. Use this to your advantage and work on your savings goals for the future! You may notice at your job that there is less pressure to perform, but don't let it affect you. If you continue to work hard and put in good effort you will be rewarded, and you may even impress your boss. Remember to be smart with your money; don't spend more than you need to, and save the rest!

Gemini
Gemini will focus mainly on relationships during June. Spend plenty of time reflecting on your relationships and who they're with. Allow yourself to freely navigate and study your personal connections, make sure all intentions are pure. You may be faced with some internal challenges this month but do not be alarmed. Trust that you are prepared to face and conquer these obstacles. Also, be sure to keep an eye out for important lessons that life may be trying to teach you.
The month of May is bringing good fortune for finances, increased motivation, and success. Continue to do your best at work and strive for greatness, recognition, praise, or a promotion may be in your future. You focused on organizing your finances last month, now is the time to maximize them. Your finances will receive a boost this month, but continue to handle your money responsibly. That being said, a little self-spoiling never hurt anyone.

Cancer
Cancers' main focus during the month of June will be authenticity. Your sensitive and protective nature often keeps you from being your true self in order to guard your emotions. Although this is for your protection, do not let it limit you. Use this month to explore your true self, personality, and feelings. Allow yourself to accept your authenticity and recognize that it makes you unique! When you feel ready, step out of your comfort zone and allow others to see your authentic self too. Don't worry, you'll be met with love and acceptance from those around you.
During the month of June, your finances are taking a turn for the better! This month will help stabilize your financial gains and make up for the financial lull of May. As your income begins to pick up the pace, you may notice your job becoming more demanding. Do not be discouraged by small mistakes and continue to work hard and display your skills. Although this month is benefiting you financially, do not let yourself use your new-found financial stability as an excuse to spend money. It is more important for you to save for your future plans and goals than to indulge today, don't forget that.

Leo
During the month of June, Leos' main focus will be progress. Over the course of the month you will be able to identify a lot of progress. You may find yourself noticing new doors opening for you, allowing an abundance of opportunities to flow your way. While all these positive changes are happening remember to watch your back. Stay alert and aware of any obstacles that may be hiding around the corner. Use any spare time you have to reflect on your progress and appreciate your hard work and sacrifice.
Financially, June seems to be brewing up something good! You won't see many direct changes to your income but instead some cuts to your expenses, allowing you to save more money. Be smart and consider the future when deciding how to handle your leftover money, saving is always a good idea! Just as you've noticed progress and new opportunities in your personal life, you'll notice the same in your professional life as well. New doors will continue to open for you if you are willing to put in the effort.

Virgo
During June your main focus will be on overcoming. You may be faced with some issues this month; are you ready to meet these challenges? Take on these obstacles with confidence and determination, you can do anything you set your mind to. Sometimes you must change your focus and see from a different perspective in order to overcome challenges. Do not be afraid of these obstacles, instead let them educate you and help you grow.
June is bringing a financial drought this month. Your finances will not stall completely, but you may experience a cut in income or a large and unavoidable expense. Continue to be smart with your finances and only spend what you must. It is in your best interest to avoid making any detrimental financial decisions this month. Instead, focus on your current savings and begin planning how you'll reach your financial goals.

Libra
During the month of June, Libras' main focus will be on refinement. You may notice some pressure being applied to your life at the beginning of the month. But don't worry, you are simply in the refining process. Something beautiful will result from your hard work and effort very soon, and you may even receive recognition for it. Continue to strive for greatness and be the best you can be.
June is a financial balance beam for Libra this month. Financially, your money will not be flowing as smoothly as you'd hope. However, the money that is present is perfect for covering your needs. You will be presented with new opportunities such as a potential raise, promotion, or job opportunity. Take advantage of these potential advancements and put your full effort into every opportunity!

Scorpio
During the month of June, Scorpios' main focus will be on peace. It's easy to get lost in the clutter of your mind, especially when you are managing stress and pressure in your daily life. Use this month to focus on finding peace in your daily life in certain places, practices, or people. Allow yourself the time to indulge in peace and relieve any stress or anxiety you carry with you. The process of finding peace may be frustrating, but the reward is worth it.
Financially, June is not looking the best. Your income is expected to slow down a lot, potentially even stopping for a short period of time. Do not stress, you will be able to make it work and get through this tough time with the money you have saved. Although it may be hard, try to focus on any lessons you may learn from this experience rather than stressing about your lack of income. These financial conditions will help make you stronger and more prepared for the future.

Sagittarius
During the month of June, Sagittarius will focus mainly on community. You have a great desire for unity and connection, and now is the time to work towards it. In the beginning of the month, focus on internally identifying your personal community of connections and relationships. Allow yourself to appreciate and learn from each connection. The end of the month will offer you many different opportunities to bring people together, use them!
June is looking to be a pretty average month financially. There is not much activity in the financial side of your life this month as everything seems to have fallen stagnant. No matter how much you feel like slacking off, do not let this sudden change of pace throw you off. Continue to meet every deadline and complete tasks, don't let your motivation slip away! It's important to stay ahead during times like these, and hard work always pays off.

Capricorn
During the month of June, Capricorn will focus mainly on family and friends. This month is forcing you to face things pertaining to your relationships from the past, present, and future. You may notice yourself feeling more emotional and authentic, use these feelings to reach out and connect with your family and friends! Open your energy and focus on creating a positive environment for yourself and those around you.
June is looking to be the perfect financial storm! You may feel your motivation and inspiration overflowing as you await new and exciting opportunities. Use your creativity and unique strengths to take advantage of any opportunity that comes your way. Don't expect any significant changes to happen immediately, good things take time. What you can expect is your relationship to your money, job, and future to become healthier.

Aquarius
During the month of June, Aquarius' main focus will be on listening. It is no secret that you can carry a conversation, but when it comes to listening you are not always the most impressive. You may feel as though life is moving faster and you can't keep up, but don't worry, listening is the solution. You are so quick to react and move on from experience to experience that you forget to stop and listen. Allow yourself the time to really listen to what you and those around you have to say, you'll be surprised at what you learn.
The month of June is expected to be very average. Your income will remain steady with little to no change the whole month. During this time, continue to be smart and save your money, do not use it to buy any unnecessary expenses. Always keep your future goals in mind. Towards the end of the month an inspiring new opportunity is likely to come your way. With enough hard work and effort, this sparkling opportunity could be yours.

Pisces
During the month of June, Pisces' will focus mainly on new beginnings. The idea of new beginnings could pertain to experiences, ideas, connections, relationships, etc., the possibilities are endless! In the end, it is up to you where your focus of new beginnings shows up. How you think, work, and adapt to this personal focus will decide where you receive this 'rebirth'. Spend time practicing your manifestation as well, as it will help you have more control over your future.
Financially, June is a downwards slope. Your finances will begin to slow in the beginning month, finally coming to a stop a few weeks in. Spend your money wisely and continue to save towards your financial goals. Your motivations and intentions will not be clear, causing you to be indecisive and lose confidence. Extra caution should be taken when it comes to making any extreme financial, professional, or legal decisions this month. Continue to navigate your financial situation responsibly, it'll be over soon.
Now that you've read your June finance horoscope, how do you feel? We have studied and prepared these horoscopes for you in hopes they provide some clarity, advice, and insight to what this month may bring. Please, do not be alarmed by these predictions. After all, this money horoscope is just a hint of what is in store for you this month.