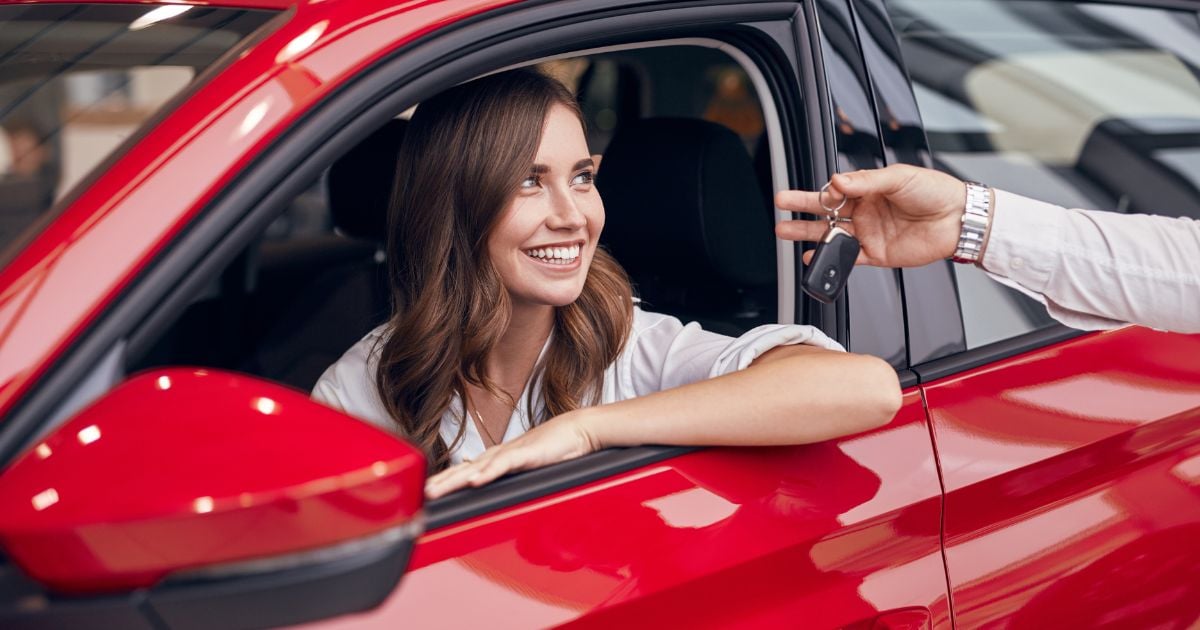 Whether your car has broken down unexpectedly or it's simply time for an upgrade, buying a new or used vehicle is a decision that needs careful consideration. Before you choose a car, you should familiarize yourself with the car-buying process. Keep reading to make sure you know these 10 things to ask when buying a car.
1. What are my car financing options?
Understanding your finances is the first step to buying a car, whether it's brand new or purchased secondhand. You'll need to figure out what you can realistically afford for the initial down payment and recurring monthly payments. Then, you can start exploring your financing options with an auto lender. Don't forget to factor in expenses like insurance, maintenance, warranties, and any other costs related to owning a car. Assessing your finances ahead of time will also help you identify opportunities for enhancing your credit score and for saving money.
2. What is the difference between a lease and a loan?
The primary difference between a lease and a loan is ownership. Choosing to lease a new car is similar to renting an apartment. When you lease a vehicle, you make payments to use the car for a fixed period of time. However, at the end of the lease, you don't own the car. You'll have to return the car or extend the contract. Another difference is that monthly lease payments are usually more budget-friendly than the payments to finance a vehicle.
On the other hand, financing a car means that you've taken out a loan to obtain full ownership of the car. You'll make payments for a fixed period of time until the price of the car is repaid in full. You can also make modifications to the car without penalty. Both options have their merits and are suitable for different circumstances. If you want to know which option is best for you, you should consult a financial advisor or auto lender.
3.

Do I need a good credit score to buy a car

?
When you're in the market for a vehicle, most people can't afford the entire cost of a car upfront. In this situation, you would likely need to finance the car through a lender like a bank or credit union. Approval for an auto loan will be based on your credit history. Additionally, your credit score can influence the type of auto insurance rates available to you. Maintaining a good credit score can improve your chances of loan approval, help you qualify for more favorable interest rates, and potentially lead to lower overall car financing costs.
4.

What should I look for when buying a car

?
After figuring out how you'll pay for the vehicle, you'll need to decide which vehicle make and model you prefer. Many characteristics help determine the perfect match, such as size, fuel efficiency, safety ratings, specific features, and more. Other practical factors to consider are the number of passengers you regularly transport and the length of your daily commute.
Try to spend some time researching various cars and all they have to offer. You might find that the model you're interested in has a bad service record, such as frequent recalls or mechanical problems. If that's the case, it may be time to start looking into alternative vehicle options. In time, you might be able to find a car that aligns with your preferences and fits into your budget.
5. Why is comparing car deals important?
Once you know the specific model you're interested in, explore the offers of local dealerships. You might find the same type of car at multiple dealerships, so try not to get stuck on the first option. Your goal is to secure the best vehicle at the best price. Keep in mind that some car dealers may offer exclusive promotions and warranties that set them apart from others.
After comparing the dealerships and the prices they can offer you, it may be worthwhile to explore options from private sellers. Purchasing a vehicle from a private party can come with some additional risks, but it can also yield excellent deals. Just make sure you see the car in person before you commit to buying it. After extensive research, you should be able to locate the best deal for your needs, whether it's a brand new car or the pre-owned vehicle from your neighbor, Betty.
6. Should I trade-in my old car?
If you're looking to trade in your old vehicle, you'll want to determine your car's value before speaking with a salesperson. Having a clear understanding of your car's worth will help you assess the dealership's trade-in offer more effectively. You can find your car's estimated trade-in value by searching reputable websites like Kelley Blue Book.
Alternatively, you could explore the possibility of selling the car through a private sale. While this option requires more effort, you could potentially get more money for your used ride. Consider your options and decide which choice will give you the most convenience and peace of mind.

7. How can I check a car's history?
Before you commit to purchasing a vehicle– especially a used car– be sure to ask for a vehicle history report. With this report, you'll be able to access a detailed record of the car's past. The service history can reveal if there's been more than one previous owner, if the car has been in any accidents, or if there are any recalls specific to the make or model of the car. If the seller doesn't want to provide the vehicle's history, you might want to reconsider the purchase. Even if you buy a car from a neighbor, friend, or family member, you deserve to be well-informed.
8. Do I need to test drive a car before buying?
When trying to decide which vehicle you would like to buy, you should take several options for a test drive. Test driving plays a crucial role in determining if the car is the right fit for you. For example, does the car ride smoothly? Is it comfortable for you to ride in? Are there blind spots? Is there anything else that you may not like? Even features that seem insignificant when you're viewing the vehicle can turn into a major inconvenience if you buy the car without a test drive. If you happen to be buying a used car, pay close attention to how the vehicle operates during your test drive.
9. Should I get a second opinion on the car?
When purchasing a car, it is always a good idea to seek a second option regarding its condition. If you have a trusted mechanic, consider asking them to conduct an inspection. There may be a cost for this service, but it can save you a substantial amount of money down the road. While the attractive price tag of a used car might be tempting, the maintenance costs for normal wear and tear could be significantly higher than a new car. If the seller doesn't allow you to get a second opinion, it should raise a red flag; there may be underlying issues that they're hiding.
10. What are other questions to ask when buying a car?
Before purchasing a vehicle, it's important to ask the right questions to understand what type of vehicle you are buying. Below are some great questions to ask the salesperson or private seller before you purchase your new ride.
Does it come with an extended warranty?
What are some common repairs?
Are there any additional hidden fees?
What is the gas mileage?
How many total miles are on the car?
What amenities does the vehicle come with?
Can I take the vehicle to my mechanic for a pre-purchase inspection?
Can I trade-in my vehicle?
What is the vehicle owner history?
How well has the car been maintained?
Does the car have a clean, rebuilt, or salvage title?
If buying from an individual, why are they selling?
After you consider all of these important questions, you'll find yourself in a great position to purchase your new vehicle. Just like any significant investment, buying a car requires thorough research and inspection. Spending some time looking around for the best deal can help you avoid regretting your purchase down the road. With the help of these tips, you can make the car-buying process both enjoyable and successful. The good news is that soon, you'll be cruising down the street in a new (or new-to-you) vehicle.