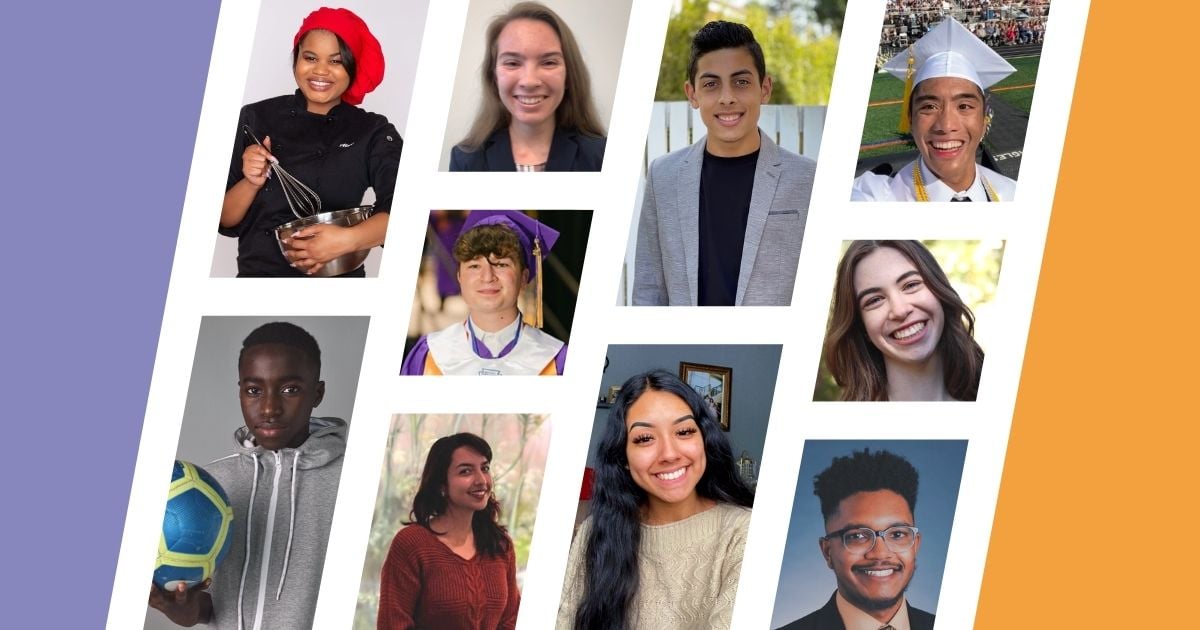 At a young age, children are taught to set goals. In school, those goals usually progress from remembering to do your homework to getting grades you'd be proud to show your parents. As you grow older, these educational goals usually get larger and more important, such as getting a good score on the ACT/SAT or getting accepted into your dream college. Similarly, financial goals progress from small menial tasks to larger, more important objectives.
Usually when you begin to manage your finances, your goal is to set aside a small amount of money, like $20, without spending it on impulse purchases. Eventually your goals turn into bigger and more specific goals, like starting an emergency fund, saving for retirement, paying off all of your debt, or ultimately becoming financially secure. Setting and reaching these goals is pivotal for creating a healthy financial future. Several students recognized the importance of setting financial goals and proceeded to write about the plans they had in order to achieve those goals. Read the 10 financial goals from students around the United States to help you get an idea for a financial goal of your own.
1. Build an emergency fund
As you know, life is unpredictable. You can't know exactly when an accident is going to happen, but you can be ready for one when it does occur. Planning for financial emergencies is a good first step on the road to mastering your personal finances. Stacy, a student at California Baptist University, got to experience the effects of a successful emergency fund firsthand:
"There are several financial goals I continue to strive toward, the main one being to begin building an emergency fund. 'Man plans and God laughs' is an adage I know first hand. I was, unfortunately, in a car accident last year. With the accumulating costs, my $3,000 emergency fund at the time was depleted. This depletion of funds was not for naught because, in an emergency, I thankfully had my savings. My bills were able to be paid, and I am, thankfully, fine. The importance of an emergency fund is grand because one must prepare for the unknown; it is astounding to learn how many do not have this safety measure."
Stacey L.

California Baptist University
2. Give back to parents
Throughout life, but especially while in college, many parents sacrifice their time and energy for their children. Most of the time, these parents don't expect anything in return, and it may be difficult to come up with a way to thank them. One student's financial goal includes giving back to his mom and making her dream come true after all she's done for him:
"My mother never was able to have a full-time job because of her three children and Multiple Sclerosis, but she would talk wistfully of one day owning a bookstore. In that bookstore, she would sell a collection of used and new books, and as a personal touch from her, she wanted to have a few cats that lived in the store until a customer wanted to adopt. She always says that it's a mixture of her two passions: animals and books. I listened to her when I was younger and thought how cool it was, but as I grew older, I realized that it wasn't just a musing or a small dream, she genuinely wants to do this one day. Therefore, my financial goal was born: buying my mom her own space for a bookstore and enough money to start her business."
| | |
| --- | --- |
| | University of Michigan |
3. Raise your credit score
Your credit score tells lenders how likely you are to pay back a loan. Having a good score makes it easier to do things like rent an apartment without a cosigner or buy a car with a favorable interest rate. It's a good idea to start building credit while you're still in college. This way, you can have four years of positive credit history under your belt when the time comes to collect your diploma. Madison from the University of Notre Dame shares her financial goal of raising her credit score before she graduates:
"Throughout my undergraduate education, I have been well aware of the fact that small investments of effort over time can compound into big strides forward. Whether that be reviewing my notes weekly to study for a cumulative final exam or taking the time to apply for internships, constant dedication propels me along my planned path. Outside of educational and career goals, I also have been working over the past four years to achieve a financial goal. After receiving my first credit card as a junior in high school, I set the objective to build a credit score above 800 by the time I had graduated with my bachelor's degree in chemical engineering. In the spring of 2023, I plan to leave college with my diploma in one hand and the credit card that helped me build a strong credit score in the other."
| | |
| --- | --- |
| | University of Notre Dame |
4. Graduate debt-free
College is extremely expensive, but attending college doesn't have to set you back drastically in your financial life. Working during school, applying for many scholarships, and limiting your non-essential purchases can help limit your amount of debt. Read Alec's goal of graduating from college without the burden of debt:
"My main financial goal for the near future is to come out of college debt free (or with very little payments) in order to decrease the financial burden on both of my parents. I want to be able to come out of my undergraduate years debt free in order to focus on medical school without any financial stress. On top of that, I have a younger brother and sister that will also be going to college very soon (when I graduate from my undergraduate school, both of my siblings will be in college). As well as this, a large portion of my parents' salary goes to my extended family in the Philippines in order to help them out. As a result of these responsibilities, the financial burden on my parents is extremely high. I do not need college to be another source of financial stress on my parents as they already work hard enough. Because of this, I really want to leave college debt free."
Alec M.

University of the Sciences
5. Start a budget
Apart from studying and completing assignments, you'll need to make sure you're keeping track of your money. Learning how to budget is an ideal financial goal for teenagers. While you're in college, budgeting is one of the fundamental pillars of effectively managing your finances. It's also a skill that can be carried well beyond the time frame of your secondary education. Alani will use her short-term financial goal of creating a budget to reap major benefits in the long run:
"Therefore, one financial goal that I've been yearning to accomplish is setting a budget for myself. Living on my own without my parents has opened my eyes, viewing where most of my earned money goes towards: food, school, and my personal desires. Moreover, I want to incorporate an organized financial strategy into my everyday life. In order to achieve this goal, I plan to monitor the amount of money I gain from work and divide each paycheck for the month."
Alani C.

Valencia College
6. Create a scholarship
Because scholarships are a form of financial aid that students do not have to pay back, many students apply for them. There are many unique scholarships that offer specific criteria for who can apply. Some scholarships are only open to students who are studying a certain major. One student plans to create his own scholarship program that would help fund the education of other students who are pursuing a career path similar to his:
"In choosing my career path of actuarial science, I was surprised to discover that very few people understand what an actuary is, and most shockingly, African-Americans make up less than 2% of actuaries. Obtaining this information was the genesis of my ongoing Banneker Theorem project. The goal of the Banneker Theorem is to inform young African-Americans about the history and legacy of blacks in the mathematical sciences, to educate them about the endless opportunities possible with a strong foundation in math, and to inspire them to pursue mathematical and actuarial careers. My plan in the near future is to create the Banneker Theorem Scholarship for aspiring actuaries who have persevered through struggles, whether familial, societal, or personal. This scholarship will be in the amount of $500 and will be offered annually for the next 10 years. "
Austin R.

Towson University
7. Pay off student loans
As many students know, the cost of attending college can be intimidating. Students try their best to alleviate these costs with scholarships, grants, donations/gifts, and even their own personal income, but sometimes, those contributions are still not enough. Many students resort to taking out student loans. Eventually, these loans will need to be paid back. A student from Oklahoma City University shares her long-term financial goal of paying off student loan debt:
"One aspect of my future that is incredibly important to me is being able to pay off my student loans. I come from a single-parent household and have always admired how hard my mom has worked to provide for my younger brother and I. When it came time for me to apply to colleges, I learned that the only way that I would be able to attend is to apply for federal aid because despite the grants and scholarships I had been offered, I did not have enough to cover tuition. In addition to the student loans that I applied for, my mom had to apply for the Parent Plus loan to cover the rest of the cost. The first financial goal that I have post-graduation is to pay off my Parent Plus loans so that they do not continue to be a burden on my mom. She has done so much for me my entire life and I would not have been able to achieve this monumental milestone without her help. In order to achieve my goal, I hope to find a job where I will earn enough to pay off some of my student loans while also paying my living expenses."
Amaya P.

Oklahoma City University
8. Buy a car
Depending on the public transportation in your city, you may be able to get by without having a personal vehicle for a very long time. However, one day you may wish to have the freedom to travel to events outside of your city whenever you please. You may also reach the point where you realize the cost of paying for an Uber or relying on a friend/family member to transport you places has become too much. Elhadji recognizes the need for his financial goal of buying a car:
"On top of that, I was able to tell my first financial goal: buying a car. My house was not very distant from my high school, so I never really needed a means of transport. Alternatively, I was relying on my father when it came to going to work or visiting some friends. But, this has not been the case since stepping foot in college. I have to use apps like Lyft or uber in order to go to work and buy groceries. Of course, by tracking my monthly expenses, I found out that this does not help at all given my status as a college student…Over the next months, I see myself, with the help of the knowledge from financial literacy I'll receive paired with my work ethic, achieving my goal of buying a car in the near future."
Elhadji N.

Missouri University of Science and Technology
9. Open up a business
Many people have the dream of starting their own business, whether that be a restaurant, store, or salon. Becoming an entrepreneur is no easy feat, but when your business aligns with your personal goals, it becomes much more satisfying to put forth the time and effort to get it started. Brittany shares her passion and how it aligns with her financial goal:
"My financial goal is to gain enough money in my savings account to open up and start my own nail business. I am currently attending the University of Arkansas-Pulaski Technical College, and I am studying the art and science of nail care in nail technology. I plan on getting my license by the time I complete my hours in May, and I plan on opening up my own at-home mobile nail salon. I've had a love for nails since I was a young little girl."
Brittany M.

University of Arkansas-Pulaski Technical College
10. Create a passive income
Getting a job in college can help you pay for your expenses and have a little extra money to use as you please. Most students understand the importance of a job, but many cannot fit the time commitment of a job into their already full schedule. This is where creating a passive income, one that is maintained and earned without much effort, could be useful. Ethan, a student at The Master's University, shares his financial goal of creating a passive income:
"While in college as a Business Major, I will aim to excel in my classes, graduate with a degree and begin my career. However, one financial goal I'd like to achieve in the near future is to sell at least one house each year in the Los Angeles area as a college Freshman, Sophomore, Junior and Senior. The goal is to remain debt free upon college graduation. The apples that fall from that metaphorical tree include my Grandpa as a Real-Estate Broker, my father as a Real-Estate agent and little old me as an 18 year-old High School Senior who has begun taking real estate courses."
Ethan B.

The Master's University
Now that you've read examples of good financial goals for college students from colleges and universities in the United States, you can begin to foster an idea for a financial goal of your own. When you're working on your financial planning, you'll want to set goals that are personal to you. These can be either short-term or long-term goals, but they should always be realistic. Throughout your time in college, you may make a plan to start saving money, pay off credit card debt, or open a Roth IRA to begin retirement planning. Those goals may seem far away, but they'll sneak up on you quicker than you think. You may be surprised by how easily you reach your financial goals with a bit of time, consistency, and dedication.