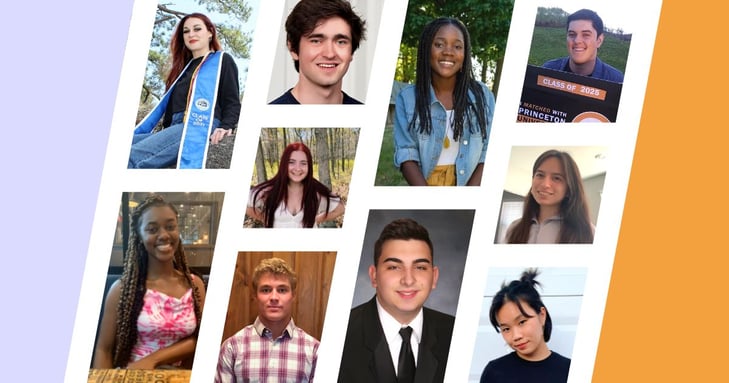 As a college student, checking social media may be a regular part of your routine, allowing you to keep in touch with family and friends. Without spending time on these social networking sites, you may not have known that your cousin went to a prestigious art museum or your childhood friend attended his fourth concert this month.
Although social media is a great tool for staying connected, all of the flashy posts could cause you to feel worse and experience the fear of missing out, or FOMO. Comparing your life to another's can make it easy for you to justify spending money in order to fit in. However, there are many ways to make fond memories without breaking the bank. These 10 U.S. students share how they got creative to satisfy both the fear of missing out and the requirements of their budget to overcome FOMO in college.
1. Host a movie night
Going to a movie theater makes for a fun night out, but it also comes with a cost. Purchasing tickets, snacks, and transportation can add up quickly. If everyone in your friend group wants to catch the latest release, it can be hard to say no. A Delaware State University student offers an alternative solution to save on movie night and deal with FOMO:
"Instead of spending money going out to the movies and buying expensive movie theater snacks, I decided to host a movie night in my apartment where everyone was able to bring their favorite snacks from their room and wear pajamas as we enjoyed a night in with each other's company. I took a poll from my entire friend group beforehand to figure out what Disney classic they wanted to watch (Pocahontas was the winner!) However, before the movie started, I entertained my guests by having a couple games of Uno and Twister set up to get the night started. I then set up my projector movie theater style and moved all the pillows and couches in a way that we were comfortable, and our snacks were easily accessible to us. Everyone enjoyed our time together and kept telling me we need to have a movie night like that one again."
Deonna B.

Delaware State University
2. Prepare a home-cooked meal with friends
When your friends and family invite you out to eat, you can most likely expect it to be convenient and enjoyable. However, preparing food at home allows you to experience the fun of cooking while bonding with others. Additionally, you can control your portions better, tailor the recipes to your preferences, and reduce your overall costs. Caleb, a University of Wisconsin student, shares how he affords a quality meal with friends that doesn't involve visiting a restaurant:
"One tradition that we have created while at college is "The Friday Night Meal". Planning a big meal may not sound like saving money but while other students go out to local restaurants every Friday night, we head to the grocery store. The point of this meal is to save money but there are some rules to prevent us from becoming too frugal. The main requirement is to cover each of the five main food groups. It is also a goal to prepare a meal that includes great-tasting food and leaves no one hungry. We have found that this tradition feeds a group of eight for the price of three meals at a popular restaurant near campus. This tradition has certainly drawn us closer as a group. Going grocery shopping creates a bonding experience and brings out a little creativity in each of us. I can honestly say that I would much rather spend the night going grocery shopping, cooking food, and sharing a meal in the apartment with my friends than going to a restaurant."
| | |
| --- | --- |
| | University of Wisconsin |
3. Explore what nature has to offer
When the weekend rolls around, you may be tempted to attend a nearby sporting event or music festival. Instead of these costly outings, consider taking in the great outdoors. There are plenty of ways to admire nature without having to open your wallet. A student from Wright State University shares how she heads outside to avoid feeling left out:
"Where I live there are several metro parks nearby, and one weekend my partner and I decided we would go check it out. We brought food and drinks from home, and started to explore the nature that was around us, and it turned out to be one of the best days I have ever had. The park was absolutely stunning, and there were trails and so many opportunities to see new animal life, and learn about the ecosystems that were functioning around the park. This day opened my eyes to see that money doesn't have to be spent to enjoy your life. There are so many beautiful things to see and experience in nature that are priceless."
Sierra K.

Wright State University
4. Host or attend a game night
Although studying and attending class are important, taking a break can be just as beneficial. Planning a game night full of card games, board games, or video games can be a great way to get your friends involved. By utilizing decks and consoles you already own, gaming is a study-break that you can feel good about. Matthew from Princeton shares a time that he slashed his level of FOMO by getting involved with a gaming club on campus:
"Some clubs are funded by the university for various reasons…This is extremely beneficial for the Magic: The Gathering club on campus, turning what would otherwise be an expensive endeavor for both club and participating students into draft matches that can be held for free, and furthermore allow those who participate to keep any of the cards that they draw. I had a wonderful time when I went to this club – not only was I able to leave with my own deck, but I also did very well overall (until I got matched up against the event organizer, who himself was the best player by a wide margin). The most important lesson to take from this story is that I had no idea the club's Magic events were free until I started looking, and likely would have assumed that they were paid to participate!"
Matthew C.

Princeton University
5. Join a new club or organization
If you find yourself regularly experiencing FOMO, it may be because you've yet to find a place on campus where you fit in. As a college student, it is essential that you join new clubs and try new things. Many clubs on campus will come with little or no cost to you. Temple University student, Grace, conquered her feelings of FOMO by trying something new:
"As a freshman, I was eager to get involved and put my talents to use so when a photography position opened up for my university yearbook club, I jumped on it. Through this position, I found a women's group that hosted meetups at the local skate park. I was in charge of photographing the event and was pleasantly surprised to be met with a community that uplifted women in a male dominant space and people that were more than willing to help each other learn. They made me feel empowered and welcomed into the skating community. It wasn't too long after that I started bringing my board out to skate too. I was not only getting into shape and making new friends, but I was also able to save money while still having a great time."
Grace W.

Temple University
6.Take a break from social media
As a student, you're connected to your peers through smartphones and social media apps. Social connections are beneficial, but it's also important to spend some time in the real world, as too much time online can negatively affect your mental health. John, a Penn State student, focuses on his face-to-face interactions to fight FOMO in real life:
"First, take a break from social media. Social media presents us with an endless reel of highlights, and automatically our brains make comparisons. But our online personas fail to encompass the vast majority of our lives. We work tiresome shifts, we write long essays, and we cram for tests. But we never post what seems unglamorous. We log onto social media for real friendships and real connections, for humor and for knowledge, but those are even more plentiful in the world around us."
John C.

Penn State University
7. Break your routine and be spontaneous
In college, you will experience a routine of going to class, studying, and repeating. While this routine is necessary, it may also be beneficial to take a break by doing something spontaneous. After all, some of the best memories are unplanned. Korpo from the University of South Florida shares how her and her friends saved money and had a memorable time:
"One night, during finals week, the most brutal week of the semester for a college student, my friends and I decided we needed a break from studying but did not want to go out and spend any money, so we had to think of something else to help relax our minds. While everyone was going out and partying, we were playing dodgeball. You read that right; we had the most epic dodgeball fights in the history of dodgeball fights. Using soft foam balls gathered from people's rooms, we got over 20 students to take a break from the stress and anxiety of school and play dodgeball at one in the morning in the common area of our residence hall. Everyone was laughing and having a good time together without a care in the world like when we were kids. Right there and then, we were all living in the moment and making the most of our college experience."
Korpo P.

University of South Florida
8. Find free alternatives for the hobbies you love
Doing something you're passionate about can help you experience FOMO less, but switching your hobbies with free alternatives can help you feel even better about your budget. For example, you could propagate your existing plants instead of buying new vegetation or try at-home workouts in place of your gym membership. A student from the University of Utah shares an expensive hobby that she swapped for a more financially sustainable option:
"I've always loved to read, but my 'to be read' list had a price tag higher than my paycheck. For a while, I put off reading. I tried to substitute it with free hobbies like writing, but as my book-loving friends cluttered my inbox with reviews of the summer's hottest reads, FOMO crept into my thoughts…I hated that something so dear to me became a financial sacrifice. Until one day on the train, I passed by the local library. The library presented more solutions than I had problems and yet I had never considered it before. That very day I walked in and applied for a library card. That night I transcribed my 'to be read' list into library holds. They had nearly everything I wanted to read, and some of them I could check out on the spot as ebooks. The triple-digit bill that hung from my FOMO quickly converted into a big zero."
Jade R.

University of Utah
9. Surround yourself with good company
When you're meeting up with friends, you may feel the need to make extravagant plans, which can become costly. In reality, making an agenda to avoid boredom could be accomplished without spending money. If you surround yourself with good company, you will realize that a flashy event or pricey plan matters less than the people you spend it with. Nicholas, a Penn State University student, shares a time when his expensive plans changed for the better:
"My friends and I were trying to plan a trip to celebrate our high school graduation. We wanted to go away for a few days. Budget and timing became an issue. We wound up spontaneously getting into the car and driving to the Jersey Shore. We literally sat on the beach for hours and just talked and laughed. We went into the water for a bit and one of the guys' mothers had packed a cooler of sandwiches and drinks - we didn't spend a dime. It was one of the best days of my life. It meant more to me knowing that we were all going to separate schools and might not see each other for a while. We stayed on the beach until it got dark and then we drove home. After that night I didn't feel sad about our overnight trip not materializing. I realized it was the friendship that was important. That day, with those guys was all I needed."
Nicholas K.

Penn State University
10. Volunteer your time
Volunteering is a great way to give back as a college student. Regardless of where you attend school, you're sure to find many clubs and organizations on campus to get involved with. Whether you're picking up trash, serving as a mentor, or playing cards with nursing home residents, you have the opportunity to expand your network and make a difference. A Stockton University student, Theresa, offers her experience with giving back:
"A specific situation where I had a wonderful time without spending any money would be doing a beach cleanup with my friends at college. Love Blue, an environmentally friendly (beach-focused) club at Stockton University, was hosting a clean-up in Atlantic City, New Jersey, and invited all Stockton students to join. My friends and I agreed that this would be a great way to get involved on campus, meet new people, soak up some rays, and have a good time. During that day, I distinctly remember laughing more than I usually do. My friends and I ended up having so much fun and it didn't involve spending any money. Love Blue provided us with buckets and gloves. They also weighed out how much garbage we picked up at the end of the day, which was really rewarding to see how much trash we had picked up. It didn't feel like work because I was having so much fun, all the while I was being productive and getting a good workout as well as helping clean up the local community."
Theresa R.

Stockton University
Now that you know how to combat the fear of missing out in college, it's your turn to get creative. Even with a packed schedule or an uncompromising budget, you can avoid the effects of FOMO. The activity that you plan may not be as glamorous as some of the events you see online, but as long as you surround yourself with good company and add a little bit of creativity, you can experience real-life satisfaction. Just as Dr. Seuss said, "Sometimes you will never know the value of a moment until it becomes a memory." I bet he would agree that the memory is worth even more when it didn't cost you anything.