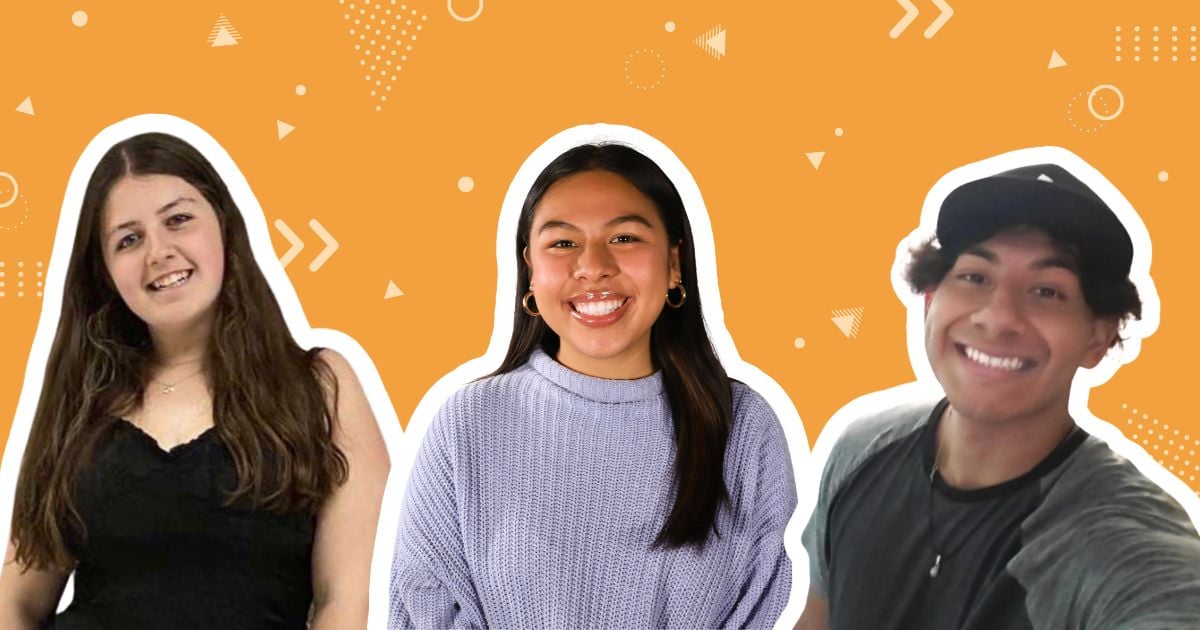 As a college student, you likely spend your time going to class, studying, working, exercising, and socializing with your friends. With your established routine, it may seem that you don't have any time to start volunteering. However, college is full of many opportunities to volunteer in your community that can fit into your existing schedule. Eight college students from around the United States share how they volunteer in college to help improve the lives of others.
1. Serve as a virtual mental health assistant
A person's mental health is extremely important. At any time, a person can encounter a negative situation or crisis that affects their mental health. In these times of need, it often helps to have a person to listen and relate to your story. Natalie, a Florida State University students, shares how she aids those in need by lending an ear:
"Time is a hot commodity for me. Luckily, I have been able to make the most of my free time by volunteering as a crisis text line counselor. In a world where everything has moved online, this 24/7 text line helps encourage individuals in crisis to reach out and express themselves. My job as a volunteer is to be there for emotional support, help de-escalate the situation, and connect them to help locally. As you can imagine, I have encountered some serious and heartbreaking stories. I have been able to lead individuals from moments of intensity to a cool state. Volunteering in this position has allowed me to have time for other extracurriculars, as I can log on to provide empathy and support to individuals from across the country whenever and from wherever I wish."
Natalie R.

Florida State University
2. Plan events for your club or nonprofit organization
Many college students are involved in organizations. Oftentimes, students have the opportunity to participate in volunteer work through those clubs. Besides helping out with already established events and campaigns, you can take your service to the next level by helping organize and plan these events. A University of California- San Diego student shares a time she was successful in organizing an event for club:
"I took advantage of the digital realm within my presidency of the Japanese National Honors Society, by creating platforms to sustain group cohesiveness throughout distance learning. I established a Discord server to create opportunities for students to communicate in Japanese and find resources to diversify their cultural interests. In one of the channels, I developed "Oishii Ryouri", a virtual Cooking Event where I facilitated zoom calls with a new recipe where students cooked Japanese cuisine together. Recently, I planned and executed our first in person movie night in two years. We hit our highest attendance record at 90 participants, went through 50 bottles of "ramune", and sold out of snacks within fifteen minutes."
Lesa R.

University of California- San Diego
3. Volunteer at your local hospital
Many hospitals are in need of healthcare workers, but that doesn't mean you have to major in the field of medicine to volunteer at a hospital. You can entertain the patients and families with your talents or just offer your company to the patients who don't get many visitors. After your time at the hospital, you may have a whole new perspective on life. Wheaton College student, Levi, shares how his point of view changed through his volunteer experience:
"My three years spent in this hospital allowed me to see the pain of others, opened and filled my heart with a compassion that I had never known, and forever changed the way that I saw others, particularly those who looked different from I did. The nature of the hospital's surroundings allowed me to serve the local Latino community and, for the first time in my life, I saw hurting people behind the once foreign language and culture. Whereas my time before volunteering was characterized by a superiority complex and lack of compassion, my work forced me to not only think about the experiences of others but also share in the pain that has been a part of their culture for centuries as well as ask myself what I could do to alleviate a portion of that suffering. As a whole, my volunteer experience at Holland Hospital…has given me an attitude of empathy and compassion, a mindset that has forced me to recognize that I am no better than others. In this way, my volunteer experience at Holland Hospital provided me with the motivation to make a lasting impact in the field of medicine."
| | |
| --- | --- |
| | Wheaton College |
4. Create study resources for fellow minorities
Some college courses are extremely difficult. For these classes, it's imperative that you allow more time or more resources to study. Some students, such as international students, those who are struggling financially, or other minority students, may not have access to the same resources that you might. A student from Washington University used her strengths to even the playing field:
"Having worked as an MCAT tutor to pay for my living expenses and graduate education, I have conversed with students and observed how some communities, such as Native American Tribes and minority communities, often have limited access to academic resources, thereby hampering their ability to seek higher education. Aware of this injustice, I created a free MCAT preparation program that is available online so that anyone with an internet connection can easily access the materials. In my program, I have created hundreds of self-made videos and dozens of accompanying PDFs to help guide MCAT studying. This initiative has now been adopted by the University of Arizona-Tucson Indians into Medicine Program as well as the Hope Scholars Program at Harvard."
Manisha V.

Washington University in St.Louis
5. Sign up to help with college move-in day
If you just graduated from high school, you may not fully understand the move-in experience. However, if you've already moved into your college dorm, think back to your move-in day. There are never enough people to check you into your building, carts to contain your stuff, or hands to hold doors open as you struggle with your mini fridge. Bryan shares how he helps to make moving in a positive experience for both the new dorm residents and himself:
"As a resident of the dorms on the UCLA campus, I applied to move in earlier to become a Move-In-Assistant (MIA) for the rest of the students coming to campus to live in the dorms. As the move-in week has arrived, I have taken multiple shifts to help families take luggage for their respective students. I also intend on helping my Residential Advisors (RA) by being a part of their team on the floor where I reside. Aside from those plans, I would definitely like to volunteer in helping out sports clubs as well as other club responsibilities. This way I'll be able to meet new people and connect with peers that can both help me and them."
Bryan A.

University of California- Los Angeles
6. Aid those with special needs
Some people live with a disability, whether it be mental or physical. While these people have different abilities than others, it shouldn't put them at a disadvantage. There is much to be learned from those who are different from us. Abigail, a Valparaiso University student, volunteers her time helping those with special needs:
"The majority of my service hours come from the aiding of differently-abled individuals. Helping others with special needs has been an interest of mine since my little brother was born with Cerebral Palsy and had brain surgery at ten days old. As an assistant for TOP Soccer (The Outreach Program for Soccer), a special needs soccer team, and the Challenger baseball team, I encouraged socialization along with learning the sport. Participating in the iCanBike program last summer really put something as simple as learning to ride a bike and experience that fun and freedom into perspective. Seeing the joy on those kids' faces absolutely made my day. I was glad that I could help them realize that while they may have individual needs, they are no different from anyone else."
Abigail B.

Valparaiso University
7. Assist unhoused people through community service
Some people may not have a safe and comfortable place to rest their heads at night. By yourself, you may not be able to help someone who is going through an unfortunate stage of life. However, giving your time to organizations, like Habitat for Humanity or a homeless shelter, can make a difference. A UCLA student shares how she gives back:
"Through the Mobile Clinic Project, I've worked to distribute food and other resources directly to people experiencing houselessness. I've been privileged enough to meet and talk with so many people experiencing incredible economic and personal hardship living on the streets of West Hollywood. I've lent my ear and my heart and I've gotten an entire lifetime of perspective. The "Homeless Crisis" is something that my fellow Angelenos have heard so much about in these last couple of years, yet so much is sorely misunderstood about experiences of unhoused individuals. Unhoused people are Strong. Lively. Kind. Compassionate. Giving. Loving. Hard-Working. Many have fallen upon hard times and have been dealt many bad hands, yet they still wake up every day with a smile on their face and hope in their hearts."
Kyra S.

University of California- Los Angeles
8. Take service learning courses
It's hard to make extra time for volunteering; however, all students need to make time for class. Some schools offer service learning courses, which are classes that incorporate volunteering in the curriculum, that count for academic credit towards your major. Taylor, a student from Wayne State College, shares how she finds volunteer opportunities without adding anything extra to her schedule:
"I schedule my day full of activity. On campus, I rush from class to club meetings and everything in between. It's difficult to add another item, like volunteering, to the agenda, especially if I want to be intentional about it. To satisfy my time constraints and my inner desire to help people, I volunteer in college by enrolling in service learning courses. It takes almost no extra effort on my part, besides searching for the service-learning section in my course catalog at the beginning of the semester. In one class, I helped with a service project honoring World War II veterans who won the Medal of Honor by naming a highway after their sacrifice and service. Even though it was a few semesters ago, I still think about the class and my efforts to help with the project every time I drive on that highway. With service learning classes, the material I learn will stay with me even after I graduate, as I have a part in something much bigger than myself."
Taylor F.

Wayne State College
Now that you've learned that volunteering isn't limited to soup kitchens, animal shelters, and food banks, you can diversify the way you help others. Even if you physically cannot add another item to your schedule, you can still make small conscientious choices in your daily schedule that make a large positive impact around you, such as trying an "alternative" spring break that consists of helping others, instead of traveling someplace warm, or showing your kindness in other free ways. You can even reach out to your friends and family members and include them in your volunteer jobs.
With the desire to help and a little use of time management, college students can learn how to volunteer regularly. The benefit of volunteering for college students is that you have the opportunity to participate in student volunteer programs that really align with your college major and personal values, which will have long-term positive effects. When you take the time to volunteer, you'll find that you'll feel good about yourself when you're helping others.