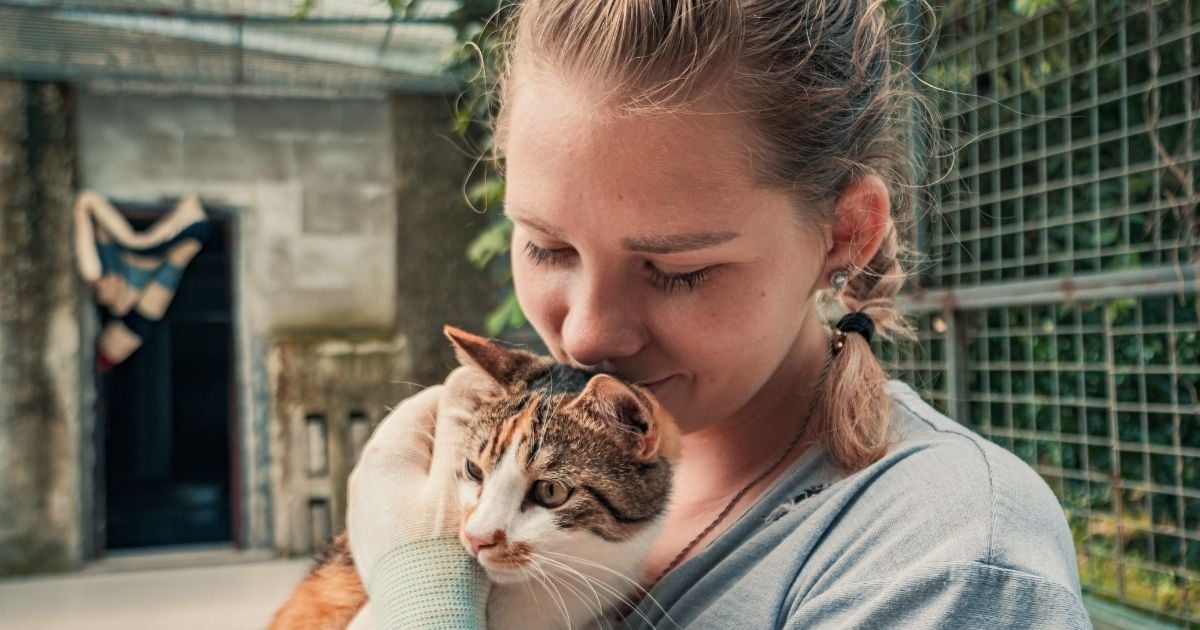 You've seen common acts of kindness, such as paying for the person behind you in line or writing a tip for $100 to your server in a restaurant. Although these acts of kindness are very generous, they just might not be feasible for full-time students and people who are living on a budget. Luckily, there's good news! Being kind doesn't have to cost a lot of money, or even any at all. Keep reading to learn about the 16 ways you can be kind without breaking your budget.
1. Send a handwritten note
Break out the pen, stationary, envelope, and stamps; we're going old school! When you write a letter or note, it shows a little extra effort than a text or email. Because you have to physically write out your thoughts, writing a letter can take more time. However, it gives you a chance to slow down and really think about what you are going to say. Receiving a letter in the mail is one of the best surprises because it could be a thank you, a message of encouragement, or a get well soon card. The next time your friend deserves a congratulations, send him or her one via snail mail.
2. Listen without distractions
One of the most rewarding acts of kindness is to give your full attention to the person you are chatting with. If this interaction is face to face, turn your phone over so the screen is facing down. If you're talking on the phone, avoid trying to do multiple tasks with your phone tucked between your shoulder and your ear. Without these distractions, you'll be able to contemplate what the other person is saying and give a better response. Plus, the conversation will most likely be more fruitful due to the lack of interruptions.
3. Share your affirmations out loud
If your friend is doing a good job, say so. If your sibling made you proud, tell them that. It's easy to keep your compliments bottled up inside you, but what good are those thoughts of kindness if the other person never hears them? Those people may never know that you think highly of them if you don't tell them. This is also a great way to make people smile. Telling your barista that you like her earrings or sharing that you appreciate your neighbor's work ethic can land you a new friend.
4. Give Blood
Because there is a high need for people to receive blood, blood banks and hospitals are constantly searching for blood donations. As long as you're healthy and meet all of the other regulations, you can give blood about every eight weeks. It takes about an hour of your time and a pint of your blood to potentially save up to three lives.
5. Volunteer your time
If you have a little extra time in your schedule, you should try to volunteer. Giving up some of your free time to help others can make their day. This can make you feel good in the process. Besides, volunteering doesn't have to feel like work. You can give your time to causes and organizations that you're passionate about. Playing with the pets at the animal shelter or visiting the elderly in a nursing home are just a couple of the ways you can volunteer in your community.
6. Pay it forward
When you hear the phrase "pay it forward", you may think of paying for the person behind you at the drive thru, but it doesn't always have to cost a lot of money. You can place the coupons that you won't use on the items they're for at the store. You could allow a person to go in front of you at the grocery store checkout line. Another low cost gesture would be to bake a casserole in a "pay it forward pan". Usually, you choose a recipient who may have recently had medical complications or a loss in the family. When the recipient is feeling better, they can eventually prepare a dish and pass it on to someone they know who is in need.
7. Donate unused items
Besides taking up space, the items that you take off your shelf once a year to dust aren't doing you any good. The same applies to the clothes that you keep tucked in the back of your closet and never wear. Many people can't afford to buy items at full price, so donating your items to a thrift store or Goodwill can make a difference in their lives. Plus, it will clear some of the clutter and free up some room in your house.
8. Offer to babysit
If you have younger siblings or your own kids, you may know that you can love them dearly and still need a few hours to yourself now and then. One of the best things you can do for a friend or family member is to offer to watch their kids for a few hours. This will allow them time to run errands or get some much needed time alone. You'll be able to grow your kid-watching skills, and the parents will be extremely grateful. Maybe you'll even get to watch that Disney movie that you've heard so much about but haven't had the time to see yet.
9. Offer technology help
If your grandparents can't work their TV or need a little extra help scrolling through their social media, help them. This opportunity allows you to show them what you know about technology and pass it on to them. It will also allow you to spend more time together. Similarly, you can spread kindness around your neighborhood by offering these same services to other elderly people nearby.
10. Virtually support a small business
Maybe your friend owns a small business but you're trying to avoid impulse buys or you just can't find the room in your budget to purchase anything. You can still show your support by interacting positively with their small business online. You can like, leave a positive comment, and share your friend's small business account on social media. This kind of action might not seem impactful, but any kind of exposure for small businesses can be huge.
11. Save extra materials
The United States Environmental Protection Agency found that approximately 4.9 pounds of waste is generated per person per day. There are measures each person can take to help reduce this. Of course recycling and repurposing items helps, but you should also try to direct the materials you don't use to a person who will use them. You can save aluminum cans for donation. Another gesture would be to collect fallen or trimmed tree branches for a friend's fireplace or give your egg cartons to a farmer.
12. Hold the door
Offering a random act of kindness can be easier than you may think. One of the easiest ways to share your positive energy is to hold the door open for someone. Whether it's an elderly person, a person with their hands full, or just the man or woman following you into the store, you don't need a reason to hold the door. It costs you roughly ten seconds of your time and can make the other person's day.
13. Make hygiene kits
Although this act of kindness is a little trickier to do on a budget, it can still be possible. Many people don't have the proper food, clothing, and supplies to live outdoors on their own. To combat this issue, you can make a care package for the homeless. By collecting the miniature shampoo and conditioner whenever you stay at a hotel, you can add them to a hygiene kit. If you have an extra umbrella taking up space in your house, add it to your care package too. After you gather all the necessary supplies, you could hand out packages directly to a homeless person. Another option would be to take it to a homeless shelter for them to distribute.
14. Post a kind note
Sometimes a positive message from a random person can put you in a better mood. You can write anonymous messages on sticky notes and post them on the mirror in a public restroom. You can also target specific people with your kind message, like placing a thank you note in your mailbox for the mail carrier to see. You may never learn the impact your message made, but you will still feel good knowing it's there.
15. Reach out to a friend
A fun and affordable way to reach out to different friends is to host a game night. You could play Twister, the Nintendo Wii, or any other classic board game. If hosting get-togethers isn't your thing, you could try another route. Invite a friend to a restaurant that you have a gift card for. With the gift card, you can enjoy a low-cost meal for two people, and you'll have a chance to engage in fruitful discussions with your guest. Even calling an old friend to catch up costs nothing and can bring back some good memories.
16. Spend time at a local animal shelter
Just because you can't afford a pet right now, doesn't mean you have to shut out animal shelters completely. Shelters are usually looking for volunteers to clean cages, walk dogs, and just give the attention to animals who need it. This is a great opportunity to practice having a pet without having all the responsibility of taking it home. Playing with the animals makes them more sociable and gives them a higher chance of adoption.
17. Put away a stray cart
You walk out of the store you were shopping at with your bags on your arm, searching for your car. You can't seem to find it because there are stray shopping carts littering the parking lot. Although the carts usually aren't this extreme, people fail to put their carts away often. After you put your cart away, go the extra mile and return one of the rogue carts. You will make a cart wrangler and a person looking for a parking spot very happy.
18. Share the wisdom you've learned
Often, you have to learn lessons the hard way, whether it be physical, emotional, or financial lessons. You can share the information that you've learned over the years to save someone else a headache down the road. This small act of kindness is one of the most important for forging meaningful connections and relationships. Plus, it doesn't cost anything except the time you give when sharing these tips on life.
This list is not a comprehensive one; there are plenty of ways to be kind on a budget that weren't mentioned. As you continue to practice random acts of kindness that don't cost money, you can add your own custom twist on each of these examples. Maybe it's mailing your handwritten letter in your own personalized stationery. Maybe it's donating items to a specific shelter that has the same beliefs that you do, or maybe it's just trying to smile at every person you pass. Now, you know that kindness doesn't have to be buying your friend's coffee everyday or saving up to write that waiter a really large tip. You can spread small acts of budget-friendly kindness everywhere you go, making the world a much nicer place to live in. Remember, being kind doesn't cost anything